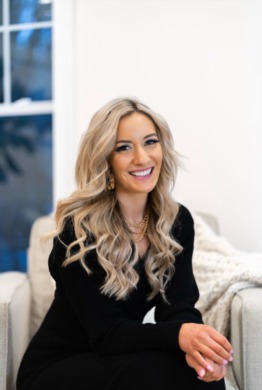 Born and raised in Southern Maine, Cady left the harsh winters to study Marketing at The University of Tampa and later transferred to Suffolk University in Boston, MA. She graduated
Magna Cum Laude
from Suffolk University with a BSBA in Marketing with a concentration in Professional Selling. While in college, Cady was a Division II Cheerleader and
began a successful career in marketing and sports entertainment, including a position as an NHL Cheerleader for the Tampa Bay Lightning, creating
a strategic marketing plan for high profile clients, such as George Foreman, and graduating in the top 5% of business students. 
Tying the common threads of her educational and vocational backgrounds, Cady launched into a career in real estate. The key to her success is simple: a genuine passion and infectious enthusiasm for the Real Estate industry. She strives to build long-lasting relationships with her clients while having the innate ability to understand and surpass their needs. She is a dedicated and highly motivated individual with a reputation for consistently going beyond what is required. Unrivaled work ethic, integrity, and honesty are the intrinsic characteristics that lead her to early professional success and lay the foundation for her unique talent as a real estate agent. 
Above all, Cady has a meticulous, detail-oriented, and problem-solving mindset. She values the importance of intently listening to buyers and sellers and prides herself on being viewed as a trusted advisor throughout the process. Her focus is to provide the highest-quality support to her clients that will immediately put their stress, worries, and minds at ease. She is recognized for her loyalty and fierce advocate of her clients' best interests. She is always looking two steps ahead and considering the long-term financial payoff for her clients.
Whether seeking to purchase or sell your residential estate, Cady has the experience and expertise to meet and exceed your expectations from start to finish.
*Mainstream Elite Agent Silver Award Winner
Pending 35 Old County Rd
Windham, ME 04062
Pending 46 Log Cabin Rd
Arundel, ME 04046